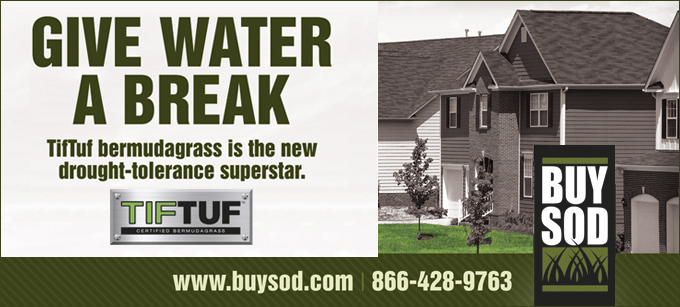 PODCAST: PLAY IN NEW WINDOW | DOWNLOAD
SUBSCRIBE: APPLE PODCASTS | ANDROID | Email | GOOGLE PODCASTS | STITCHER | SPOTIFY | RSS
TENNESSEE TURFGRASS: Julie Holt, Managing Editor, Leading Edge Communications
In the midst of a labor shortage that seems like a long-term challenge for the golf and turfgrass industry, it can be hard to find the light at the end of the tunnel. Finding young workers who are willing to do the work, let alone have experience in maintaining a golf course seems like a fool's errand.
One student in middle Tennessee is blazing a trail for a promising career in the golf industry, and hopefully proving to others with an interest in turfgrass management/golf course operations that the career is within reach.
Dane Gilbert is a golf enthusiast who designed and built a course in his own (and his neighbors') back yards. He maintains the nine-hole course and hosts an annual two-man scramble. Dane is a 14-year-old 8th grade student at Hickman County Middle School in Centerville, Tennessee. The story of his course, DGC Tallgrass, is one of industry collaboration, community support and a determined young man with a vision.
Start Small
Dane and his father, Brad remember the humble beginnings of DGC Tallgrass way back in 2019.
Dane's uncle Allen Gilbert gifted Dane a cup and flag so that Dane could get in some practice at home. As part of a golfing family, he'd been swinging a club since he was old enough to hold one, so a backyard practice hole was a natural step. Shortly after he set up his practice hole, covid shut down everything, and Dane got to work.
"During covid, we took Dad's lawn mower and cut it down like a green. Then as it went on, I got more and more flagsticks and flags and I started planting them in the yard," Dane shares. "Then I started designing the holes, and it just kept getting bigger and bigger. The neighbors saw what I was doing, and they offered for me to join their land, so I could put holes there."
In its current state, the course is made up of the Gilberts' property along with three neighbors. "I can't say enough how much the neighbors have been generous to let him do what he does on their land. I think they just enjoy watching him do it," Brad says.
Dane explains how he determined the initial design of the course: "I just took a wedge around the yard and tested different areas as a tee box. I had to see if it had grass first, so if there was an area that had grass and could somewhat hit the green, that would probably be a hole. We would just go around the yard and design how it would be."
Elevating the Game
Though the initial stage of creating a backyard golf course was complete, Dane didn't stop there. "We redesigned and found areas that were better for holes. We have one where we hit over a hollow, we have green on the other side so it's like a hazard hole. I find things that would be better to be advanced, better tee locations, better greens," Dane says.
While Brad is an avid supporter of Dane and the course, he says that Dane himself does the lion's share of the work. "Sometimes he'll get my opinion when he wants to redesign a hole, and I'll just tell him as a golfer what I think a good shot is. He's good about taking input about that, then he makes it his own. Every now and then he asks me to cut some limbs or assist with things like that, but he really does 95 percent of this on his own."
Along with designing and building, a course comes with a serious amount of maintenance. Dane has been the beneficiary of a wealth of knowledge, not to mention tools and equipment, from golf course professionals.
How does an eighth grader acquire the tools of the trade? Dane says, "A family friend (Jim Herron), gifted us an old greens mower, and my uncle helped me fix it up, it's an old Toro. We've got two cup cutters and a lot of cups that are old that were gifted. We have regular lawn mowers and weedeaters. I have a ton of flagsticks. My cousin who used to work at The Grove gave me 54 flagsticks that he didn't want to use anymore."
But the generosity of the turfgrass industry didn't just come through in the form of equipment, Dane also had to learn how to use his equipment and to maintain his course. "My uncle taught me how to mow greens," Dane shares. "I used to go out to work with him and just watch and learn. My dad taught me how to mow, and I kept going up from there."
And don't forget the perpetual information source for our Gen-Z future turfgrass professionals – according to his parents, "He has done so much online research on different types of grasses and other turf subjects. We've asked him before how he knew something and he says, 'YouTube'."
Paying It Forward
As part of the Hickman County Middle School Golf Team, Dane has found a way to give back to his teammates and community. When he was in sixth grade, his middle school coach had the idea to have a scramble at his golf course to raise money, an event which has raised over $5000 for the team in three years. Brad says, "Once we had people coming to see what he's done and played on the course, every year he's worked hard to make it an even better experience."
In its first year, the tournament hosted 15 two-man teams, and for the last two years it has increased to 25 teams. Dane's sister, a member of the Freed-Hardeman University golf team, has played alongside her teammates in the tournament. The community support has been tremendous for this event as well. "We have family and friends come and help weed eat, everybody just chips in," Brad says. "It's really neat what happens. Then we just have some people come by just to walk around and see the tournament and watch, and they make donations."
"Charlie at Greystone Golf Club has been really good, he's given us some prizes when we have the tournament. Charlie got to know Dane through their youth golf events at Greystone, Charlie has taken care of us as well," Brad added.
A Clear Path for a Bright Future
While he still has the usual tasks of an 8th grader – school, homework, chores, practicing his sport, time with friends – he's found a way to fit it all in, which is no small feat of time management!
"I do different things a day," Dane says. "If I need to mow greens, I do that, and I'm done for that day. If I need to change the hole locations, that a day job. Or if I need to mow the regular yard, that's a day job. So I just divide it into days. I have some time to chip around in the yard and play a couple of holes before it gets dark."
With this strong foundation and experience under his belt, Dane has a head start on his goals.
He hopes to pursue a golf career in the future. "But if that never works out, I always have this as my backup. I can get my turf degree, and this is probably something I'll do in the future."
The ingenuity, work ethic and dedication needed to be successful in any industry usually takes years to develop, but with some industry and community support and some big dreams to chase, Dane has found the secret recipe. There's no doubt that this outstanding young man has a great career ahead, whether he's playing or maintaining golf courses.
We asked Dane what his advice would be for others his age who have an interest in golf or turfgrass management, and he offered some age-old wisdom we can all take to heart: "Keep working at it. In the summer, it'll get dry and start dying, and you just want to not do it anymore. But just keep working at it. Over the years that you keep mowing, it just keeps getting better and better."
You can follow Dane and DGC Tallgrass on Twitter @DgcTallgrass
READ THE ISSUE